By Catherine.
This time last year we were preparing to pay our respects to the fallen in the usual way. Volunteers from the Royal British Legion were out in force selling poppies in public places, and towns up and down the country were planning their Remembrance Day services. Fast forward twelve months to a very different situation. This year there is a noticeable absence of poppy sellers. Local Remembrance Day services have been cancelled as we find ourselves amid a global pandemic. One thing is for certain though, as the saying goes, we will remember them.
This year more than ever, people will be finding their own ways of marking Remembrance Day from their own homes. We have been fortunate to source several poppy themed products to help people do just that. As always, we will be donating at least ten per cent of sales from our poppy products to the Royal British Legion.
There is growing support for a two-minute doorstep silence on Remembrance Sunday at 11am. We have a simple poppy garland that would be perfect displayed around a window or doorway and is a great way of showing your support for this year's poppy appeal. We also have a pretty, poppy doorstop which would add a decorative touch to any house.
Also, in stock we have a beautiful worded photo frame, a touching way of remembering loved ones no longer with us. We also have poppy sentiment blocks and hanging hearts, made from washed wood, that can be placed in the window or around the home.
As always, we have our usual range of poppy scarves. Whether you're buying for yourself or as a gift, we're sure to have a design to suit.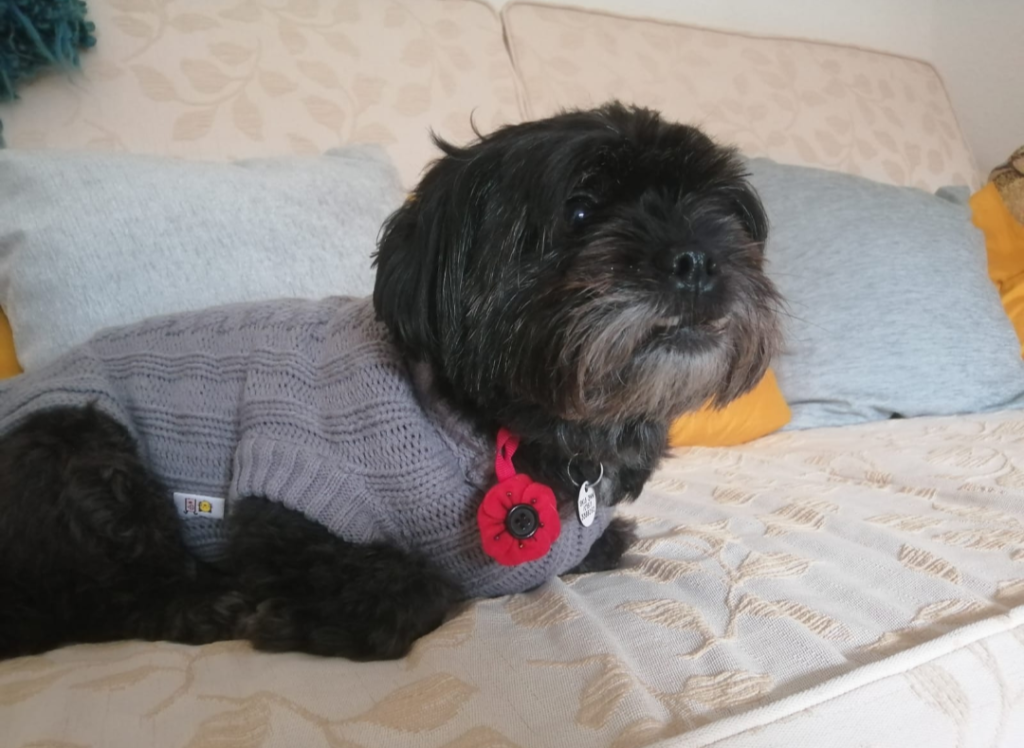 New for this year is a gorgeous, little poppy keyring, made from soft felt and embellished with a button and beads. We particularly love the fact that it can be attached to the zipper on a handbag or coat, or a pet's collar. Check out Hetty looking super cute in her poppy, all in a good cause!
Another way to use these little felt keyrings came from one of our customers Marjorie, who used hers as a scarf ring.
At just £3.50, these little keyrings are an affordable way of showing your support for the 2020 poppy appeal.
So, whilst 2020 may not see the usual Remembrance Day events taking place, we will still be honouring those who gave their lives for this country and those who continue serving. We are proud to be able to support our local Royal British Legion in what is going to be a particularly challenging year for charities and fundraising.
Lest we forget.