Magpies Nest opened in March 2013 in a tiny, tiny shop in Stalybridge selling handbags and accessories. After 12 months, we had out grown the first shop and moved into a second larger shop. The business continued to develop and grow and in 2016 we made a huge move into a larger store and expanded into giftware.
We have always prided ourselves on putting our customers at the centre of what we do, and creating a positively memorable shopping experience. Our store is known for its quirky displays and excellent customer service. We source unique items supporting locally handmade businesses as well as stocking big brands usually found in larger high street and department stores.
Magpies Nest has won the Pride of Tameside Start up Business of the year in 2014, Pride of Tameside Retail Business of the Year 2015, FSB Retail business of the year 2016 for Greater Manchester. In 2014 we were selected as 1 of 100 independent UK businesses and invited to Downing Street as part of the national Small Business Saturday Campaign.
We are a team of 6 ladies and 1 Mr Magpie, and we are all passionate about the products we stock and we love our jobs at the Nest.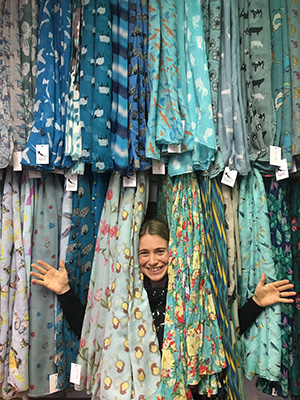 Hi I am Liz, also known as Mrs Magpie! I started Magpies Nest back in 2013, after a career working in sales and advertising. I am passionate about great retailing and strive to make Magpies Nest a wonderful shopping experience for my customers.
I take inspiration from everything I see – nature and other leading retailers. I hate poor service, and can be quite hard to please when out shopping! The best thing about working at Magpies Nest is seeing all the new stock and creating campaigns and displays around new products. It's really hard for me to have a favourite department in the business –as I buy it all, so I think it's all great!
In my spare time I can usually be found with Mr Magpie & Horace (the real boss) in our Camper Van on an adventure.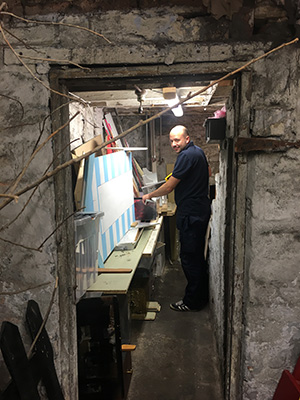 Hi I am Mr Magpie, I have been roped into working at Magpies Nest since 2013. Every promotion and display you see in store is made by me. Mrs Magpie usually gives me a scrap of paper with a very rough drawing of what she can visualise in a certain space, and then it's my job to create her vision!
I am a nocturnal worker, and generally slave away on her creations after hours so it's very rare that you'll ever see me behind the counter. I also deal with the financial admin, I try to control Mrs Magpie's crazy spending and issue her with budgets… I have a safe place in the basement where none of the ladies will venture due to spider issues. It's the perfect place to hammer away and saw pieces of wood to create the latest "vision" undisturbed. When I am not at Magpies Nest I like to snooze and tinker with the camper van.
My name is Horace, and despite what anyone else might tell you I am totally the boss here! Prior to working at Magpies Nest I spent my days wandering round the garden and snoozing on the window sill. The human who insists on calling herself "mummy" started dragging me out of bed in the morning into the place called work. It's ok here, I have an office with a posh chair to snooze on (the sun is particularly warm through the window between 2 -3pm, ideal snoozing time) I get taken out for a walk round the town each day as well, which can be interesting.
There are lots of humans who come in this work place and I get loads of yummy treats! The best thing here is when the shop is shut I get to run all over with my toy ratty. I really like the look of the Jelly Cat toys; although none of the humans have let me have any to play with. I might go on strike until they give in to my demands.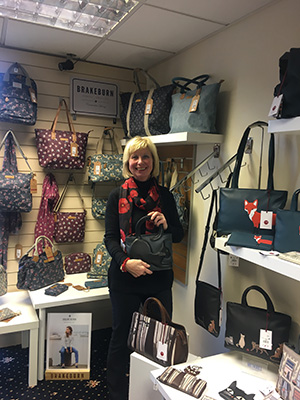 Hi I'm Ros, I joined Magpies Nest over a year ago and I enjoy working here! Although I'm mainly in the back office managing the VIB Loyalty Card Accounts, doing the admin and processing the web orders. I can often be found in "Handbag heaven" upstairs doing admin and stock control. I love the smell of quality leather and the variety of bags we stock.
The customers are lovely and I enjoy talking to them and helping them when they are choosing a bag. When I am down stairs on the giftware floor it reminds me of being in a mini department store with all the lovely things on display. I feel very lucky to be a part of the Magpies Nest team.
In my spare time I love to go cycling, I regularly do 50 miles on a weekend!
My hobby is ballroom and Latin American dancing; my passion is handbags and purses. Radley is my first favourite as I love the soft supple leather and the way the bags are structured and lined. However I have also fallen for Yoshi handbags with their buttery leather and quirky designs. I particularly like the matching coin purses which also come in handy for storing all the different cards we use today.
I also like the Heathcote & Ivory range in particular the William Morris range. Not only are the products (hand creams, body lotions and soaps etc) beautiful to use, they come in gorgeous packaging! I have been at Magpies nest since June 2016.
I have been a Magpies Nest since October 2016 and I love all the bath and body products. My favourite brands are Bomb Cosmetics and Cath Kidston. I like the Cath Kidston travel sets, especially the body wash because of the many different smells. I love the bath blasters because of the way they leave your skin all soft and silky.
When I am not in the shop, I'm at school studying for my exams.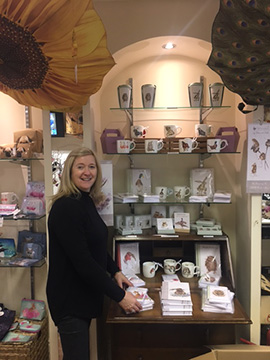 Hi I'm Karen, the newest member of this crazy team! I have come from Tameside Hospital to a more relaxed bird tweeting job. I love all the products we sell from candles to bags, but my favourite by far is the Jellycat soft toys, and the Wrendale collection. My hobbies are yoga and my dogs.