With Easter not too far away, this week I wanted to share the work that local man Steve Barton has been doing to help local children this Easter. Steve is the founder of Barty's Foodbank https://www.facebook.com/groups/600069250841399 which is based in a old shipping container in the labour club car park, Steve and his partner Simone can be found most days preparing food parcels for the Tameside area. Steve has an army of volunteers who are always willing to help him get food and other essentials to those who need it the most. Magpie's Nest have been supporting Steve as part of our community work, with weekly food deliveries for over a year now, and when we heard what he had planned for Easter this year, I thought he was hopping mad!!
Steve said he wanted to collect 10,000 Easter Eggs and give them out to children in the community. When I asked him why, this is what he said. "The mental health of people is in tatters because of Covid and I am hoping this will give them a lift, if only a small one, when they need one."
However I also should have known Steve would not only reach his target he had set himself, but smash it as well!! Its still 2 weeks before Easter and he has been able to collect in excess of 10,000 eggs!. 1,500 eggs have been distributed to Buckton Vale and Millbrook primary schools and underprivileged families in Tameside. Steve also plans to take eggs to Tameside, Oldham and Manchester hospitals along with the world-renowned Alder Hey Children's Hospital, Liverpool. Steve is also hoping to give away eggs to the Silver Springs Academy, All Saints Catholic High School, Ashton's Women And Their Families Centre, Greystones homeless charity, CLIC Sargent and to 15 care homes.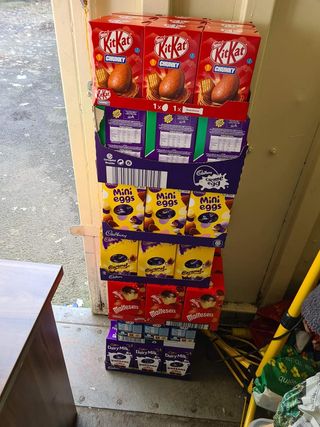 At a time when people are feeling low and life isn't as normal due to lockdowns and Covid, the impact of seeing people come together to donate Easter Eggs to help put a smile on someone else's face is amazing. There have been donations from Companies like ours, and Mossley Hollins high school pupil Finlay Smith used his pocket money to buy eggs. The sense of community when people all pull together to help others really is amazing. I always view Steve and Simone as the conductors, and all the people who help and donate are the parts of an orchestra, which under Steve and Simone's guidance creates a beautiful sound. The sound is full of heart and community and its the best sound in the world.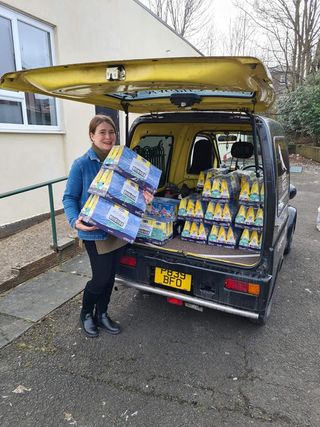 Steve is always looking for tinned food donations, especially beans, tinned meat, UHT milk, pasta, rice, and pasta sauces. Donations can be made at the cabin on the Labour club carpark, or alternatively you can leave them with us at the shop. (Food only though please!)