We have just finished creating this years Poppy window, which marks the start of our fundraising efforts for the Royal British Legion. As usual we will be donating a percentage from the sale of any of our poppy products, this is something we have done ever since we opened in 2013.We hope you enjoy the window, and that we can raise some money as well. You can view our poppy collection here https://magpiesnest.co.uk/?s=poppy&post_type=product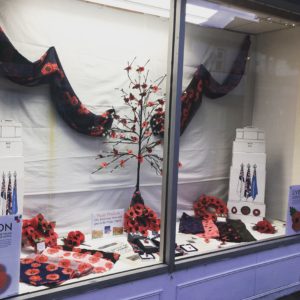 I love changing our windows and creating new displays, for me its one of the best bits about working in the shop.  Some months are harder than others, however at this time of year there is so much inspiration and changing seasons – I wish they would last a little longer. This years Halloween window was one of my favourites, I loved the Jellycat creatures flying on their brooms. I was a little bit sad to take that window out, but I know that after our Poppy Window I will be tasked with creating a magical Christmas one, which I always love to do. I have begun my research, looking for inspiration for this years Christmas window.  Whilst searching the internet I stumbled across this interesting article about the history of shop window displays http://fashion-history.lovetoknow.com/fashion-clothing-industry/window-displays   Some of the window displays from the early 1900's were fabulous and the people who produced them were creative pioneers. Display is really important to us at the Nest, and having the space to display products in an unexpected or quirky way should add to your experience when you visit the store. I am always thinking of new ideas to display items or new ranges.
On a slightly different note we have got a busy week ahead, starting off on Thursday evening with this years Pride of Tameside Awards. We have been shortlisted for Retailer of year, and small business of the year. Good luck to all this years finalists, its great to see so much local talent on display.