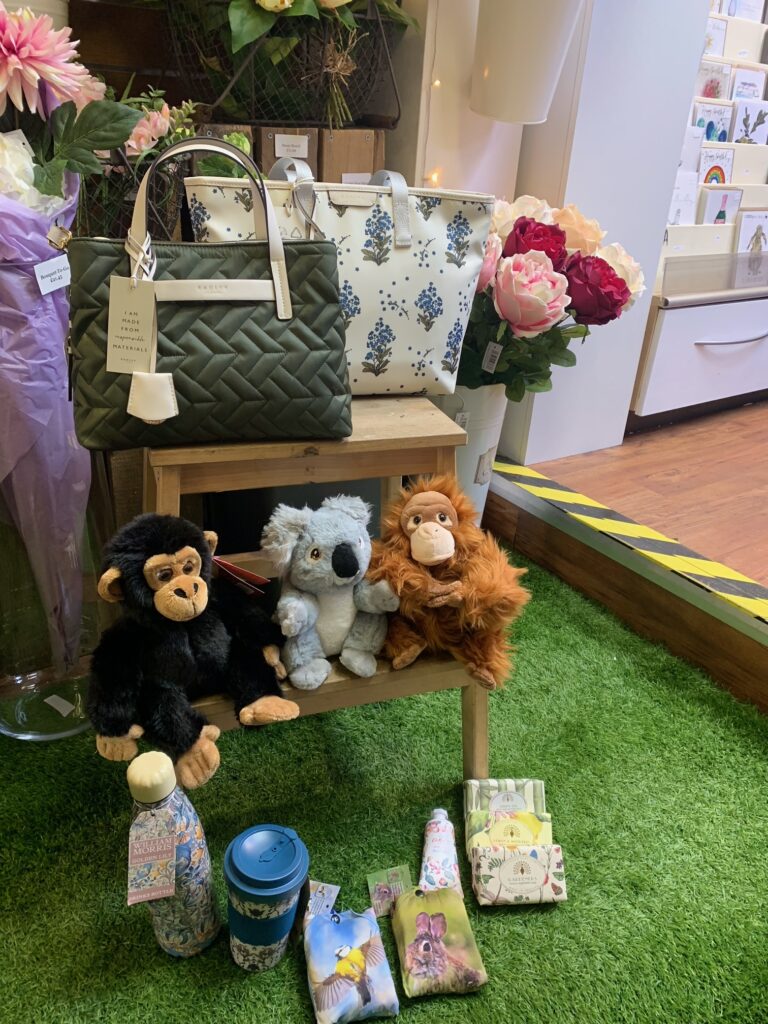 A selection of the products included in the new Environmental Window.
A couple of weeks ago, Ashlie and Lucy decided that the Armentieres Square window needed updating. Whilst walking around the shop brainstorming, they noticed that a lot of the products in store have become more sustainable. They decided that a environmental window would be a perfect window display, because at the moment, everyone is making changes to help the environment. They featured a range of our sustainable products in the window, and below we will go through why they were included and a link so you can see the product for yourself!
One of our best sellers and customer favourites, Radley, has introduced a sustainable non leather range, which is being introduced in our store https://magpiesnest.co.uk/product/radley-forget-me-not-crossbody-bag/ https://magpiesnest.co.uk/product/radley-maple-cross-palm-crossbody-bag/. Radley's non leather bags are being made with sustainable materials, such as recycled polyester. This includes recycled water bottles! Radley have also made changes to their manufacturing processes, so by improving this and using better resourced materials, they are massively reducing their carbon footprint. Even though Radley have made all these changes, they have not lowered their standards in terms of the quality and design of their products. So if you fancy treating yourself to one of the new Radley non leathers, you'll not only have a beautiful new bag, but you will be doing your bit for the environment too!
Did you know that the average person wastes up to 18kg a year on plastic bottles! This equals 140,400,000,000kg globally each year. Not only that but it is 800x more expensive to buy bottled water than it is tap water, which is usually more healthier for you. By making a simple switch to a re-useable water bottle, up to 8 million pieces of plastic would be prevented from ending up in our oceans. If you fancy making this change, you're in luck! We have a fab range of water bottles in store for you to choose from. From the super cute Wrendale ones (which are loved by Catherine and Ashlie) to bee-autiful Sass and Belle Bee ones, there is definitely one for everyone. Prices start from £6.50 and go up to £22.00, but just think of the savings you will make in the long haul by not buying bottled water. https://magpiesnest.co.uk/?s=water+bottle&post_type=product
In the window are some of the William Morris travel mugs. These are just £4.99, and when you consider that they keep your brew warmer for longer it's a win win! The takeaway cups that most coffee shops use rarely get recycled properly and end up in landfill. By purchasing a re-useable travel mug you're not only preventing this, but many high street coffee shops offer a discount if you bring your own travel mug, another win win! https://magpiesnest.co.uk/?s=travel+mug&post_type=product
Included in the window is some of the ever popular and pretty English Soaps. Most importantly, these soaps are cruelty free and vegan. As the name suggests, the soaps are made in England! In fact it is a family run business, with the products being made on a farm in Waldron, East Sussex. This means that the products don't have too far to travel to get to their stockists. The packaging is not only stunning (I wish they did wallpaper), it is sustainable too as it is made from recycled materials, it is also biodegradable! https://magpiesnest.co.uk/?s=english+soap&post_type=product
You may have spotted in the window some of the Keel toys. We are phasing this range out, so grab a bargain whilst you still can! The Koala is in the window because he is made out of recycled plastic! But don't worry, he is super cuddly and soft. We included the Orangutan and Chimpanzee because these animals are in endangered. By making small, environmentally friendly changes we will be able to help save these animals, and many more. https://magpiesnest.co.uk/?s=keel&post_type=product
We hope you like the environmental window change. It will be in for a while longer, so have look next time your passing, and let us know what you think!