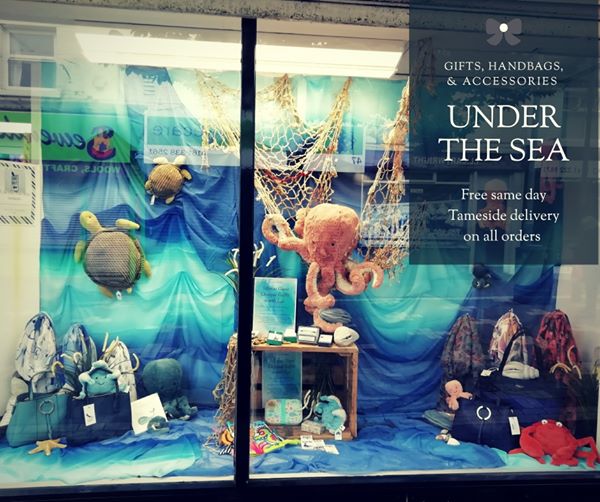 We had been open for a few weeks after being told to closed during lock down. Things were starting to feel a little bit more normal, with more customers returning and coming back to shop with us in store. We had a Under The Sea theme in store all month and created one of our favourite window displays to date.
As a part of our community work we decided that the star of the window Odell the giant octopus should be raffled off to raise money for local charity Reuben's retreat ( http://www.reubensretreat.org )We were not expecting to raise much, maybe £100 as people had been off work for so long furloughed and laid off. So at the end of the month when we counted the total amount raised we were thrilled to have raised £325.39!! This was a fantastic effort by our customers who all (as always) got involved and helped to support us in our community goals for this month.
Towards the middle of the month I started to get invites from suppliers to go to attend virtual showrooms to buy Spring & Summer stock for next year. Previously this is something that would have required a visit in person. I guess its the new normal for now. Another good thing this month was Catherine returned to work in the shop, its great to have the team all back together again and its really important to me that the shop continues to feel and be a safe place for us and for our customers. This was one of the reasons that at the end of this month we moved the counter area. We have now opened up the whole of the ground floor and there is much more room for people to walk around without bumping into each other.
We have also started to get new stock coming through from suppliers. Covid had created a temporary shortage of stock, but most suppliers are starting to send new products out in dribs and drabs, but it feels like a small positive step post Covid. I also think it gives a confidence in the shop and in the brands we work with.