Well this week we are full of excitement and anticipation as we found out we had been named as one of the 25 retailers in the running to be named Britain's Best Small Shop of 2018. We are attending the Pride Of Tameside Business Awards where Magpie's Nest is nominated for Small Business of the Year, Retailer of the Year & Entrepreneur of the Year. Since opening in 2013 the business has grown and developed, winning local and national awards over the years. Liz is motivated by giving customers a memorable shopping experience and  providing quality gifting and accessories without customers having to travel. "I live and breathe, Magpie's Nest – I work tirelessly to source new stock and develop the business. It's really hard work, especially with the high street being as quiet as it is at the moment,  but I wouldn't change it for any other job. To be in the finals for two business awards is amazing, and I am very humbled to have got this far."
The Best Small Shops competition, managed by the Independent Retailers Confederation (IRC) celebrates the commitment and creativity of independent retailers on the UK's High Streets and the central role they play in their local communities.
Mark Walmsley, chairman of the IRC said: "Despite all of the bad headlines and the high-profile closures of larger stores, we firmly believe that specialist independent retailers can thrive in this climate by delivering a truly unique retail experience. The Best Small Shops competition enables us to celebrate this unique industry, the passion, service, flexibility and knowledge of independent shop owners offer and show customers what makes independent retailers so special"
The winner will be announced at an event at the Houses of Parliament on 13 November.
The Pride of Tameside Business Awards celebrate the outstanding work of businesses from different sectors and inspirational individuals from across the region. Tomorrow night is the awards evening and we are really looking forwards to meeting fellow businesses from Tameside. Its great to see two other local Stalybridge businesses in the finals too, we are flying the flag for Stalybridge!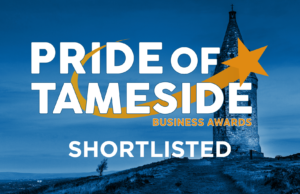 Whatever the outcome at both events, its such an achievement to have been shortlisted for both awards and to be alongside other great businesses. Thank you to all our customers for your support, it means the world. Good luck to everyone else nominated 🙂