Following on from the last blog, I have been cracking on with working through some more of my resolutions for Magpie's Nest.
One of the biggest changed we have implemented already was the reworking and revamping of the ground floor. The shop is large and I felt the ground floor was getting clogged up with tables, so I devised a plan on a scarp of paper and instructed Mr Magpie in the construction. I am really pleased with the end result, the shop is lighter, brighter and has a better flow. The change in layout has also helped to clearly define our gifting by area and type.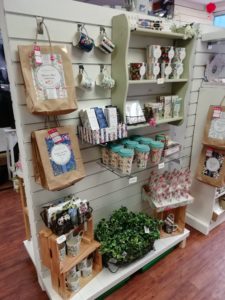 Linked to the shop floor reworking, we have created a dedicated Gents section. This year we will be slowly expanding into more men's gifting with the addition of a selection of men's clothing. We currently have a few pieces in from Joules with more to follow later in the year.https://magpiesnest.co.uk/product-category/gifts-for-him/
The third change we have made was to the handmade shop – rather than running it and then having a week with it closed, we decided to keep it running permanently. Creatives will come and go when they have been in for as long as they like. This will make it easier for you to shop for these unique gifts.
We also have decided to launch a new handbag and jewellery range – which we wont say too much about at the moment but rest assured I think you will love it, and the prices!!  There are lots of new products coming into the shop from existing suppliers so do pop in for a look.