"If everyone who'd complimented our beautiful gallery had bought 'just a card' we'd still be open"
Last week we joined in with the JUST A CARD campaign, which aims to encourage people to buy from Designer/Makers and Independent Galleries and Shops by reinforcing the message that all purchases, however small, even 'just a card' are so vital to the prosperity and survival of small businesses. This week I wanted to share with you a bit about the campaign, and hopefully you will understand why we got involved with it.
The campaign came about when Artist & Designer Sarah Hamilton saw the quote "If everyone who'd complimented our beautiful gallery had bought 'just a card' we'd still be open" by store keepers who'd recently closed their gallery. This prompted a call to action! Designer/Makers and independent shops and galleries need a voice. People seldom realise the considerable costs involved in keeping a shop open. Rents,rates, power, materials for displays, packaging, wages and of course stock need to be met before even a penny of profit can be realised. Running a shop is often a labour of love. Without dedication and passion, and crucially sales, it would be another boarded up eyesore.
One gallery owner, Hannah Stoney at Yellowstone AB – a popular and flourishing gallery, reported that when she'd remarked to a customer she was saving considerably due to the new carrier bag charge change they replied 'Oh I didn't realise you paid for these'! Why should they of course? However without this being pointed out nor will they recognise the impact their purchasing power will make. As a direct response to our campaign many people have reported they often feel embarrassed to make a small purchase as they felt this may appear miserly. Something they'd never feel in a large chain store. Since hearing of our campaign they've changed their opinion.
I hope this makes sense as to why we would get involved with a campaign like this. In the last 5 years we have seen new business open in our town centers, and really make our town a much more appealing place to shop. It's by no means a Hebden Bridge or Uppermill… yet. The potential is here, but with out customers actually shopping in these independent shops the town wont flourish. All that will remain is charity shops and supermarkets. We all want to see more quality independent shops in Stalybridge, but no one looking to open a retail business would consider this town if they see shops closing and no footfall. Please use your local independent shops, even if you only purchase just a card, carrot, sausage, dog chew, door mat, candle, light bulb, sheet of wrapping paper, ball of wool, bottle of beer, block of cheese, or cup of coffee. Your purchase no matter how small, could make all the difference to a small shop staying open, employing people or having to close.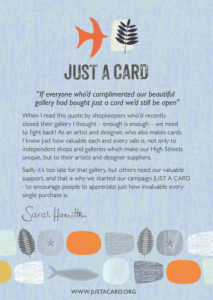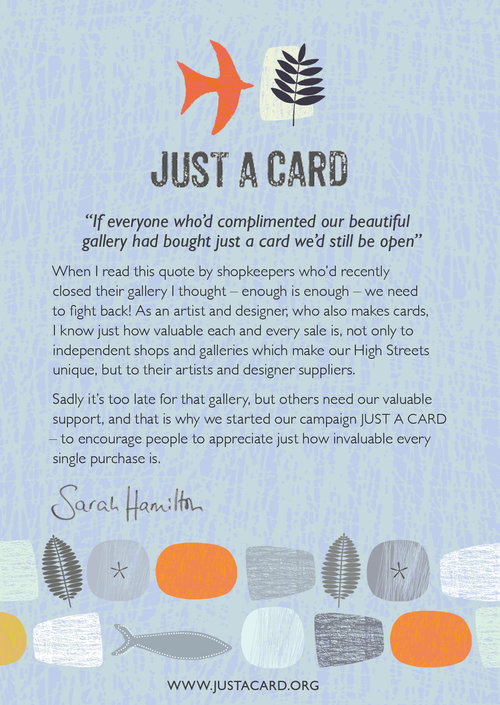 If you would like to find out more about The Just a Card Campaign visit https://www.justacard.org/
If you would like to find out about the shops in Stalybridge.. head on down this Saturday:)