On Saturday 18th November we opened our Christmas Store in Stalybridge, we worked round the clock to create a magical, inspiring Christmas space for you with a variety of decorations and gifts. As usual we started work on the window ,this year we created a arctic scene featuring polar bears and Eskimos. Taking centre stage is Perry the Polar Bear from Jellycat. He is adorable, and so so so soft. He is sitting outside his igloo with his little Christmas penguins and reindeer who are all wrapped up in their winter jumpers and hats. Our smaller window is inside Santa's workshop, we have Santa at his desk surrounded by gifts and toys with his elves.
Once you have stepped inside you enter this years Christmas shop though the door to Santa's Workshop, which will lead you to our Christmas section. This year we have a variety of baubles, from sparkly glittery ones, to cute wintry felt creatures and traditional wooden decorations. Its not just baubles in the Christmas Shop, we have a range of light up star and tree decorations that look beautiful on a window or bookshelf. We also have a selection of wall plaques Christmas ornaments. This year we have got some fantastic elf kits, these include a elf toy, as well as elf reports and stickers – perfect for good behaviour bribes! We also have got back in stock the stunning handmade crackle glass range from Wax Lyrical. A firm favourite is the large hurricane vase, which looks stunning when filled with flowers or candles.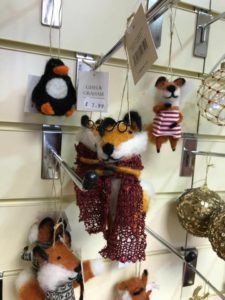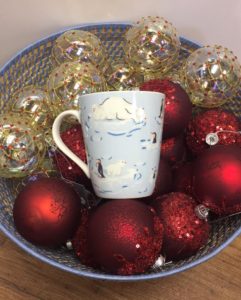 Its of course not just Christmas decorations, we have a ground floor dedicated to gifting, and we have some lovely Christmas gift ideas in stock.A festive favourite is the  Stoneglow candles which are stunning and make a lovely Christmas gift, especially the seasonal ones such as the silver or gold sparkly star versions. With these candles you burn the candle in the middle which leaves the outside intact, and can be reused time and time again.
Do come and have a look at out pop up Christmas shop, we are open 7 days a week. Monday – Saturday 9.15 till 6pm. We also open every Sunday too 10am till 4pm.