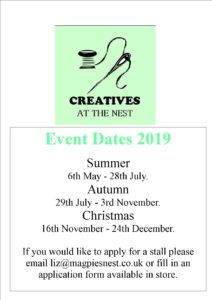 We have transformed our first floor into an amazing space filled with handmade loveliness. We trailed the idea in March 2019, and after really positive feedback from creatives and customers we have decided to make Creatives At The Nest a permanent feature. We feel it really complements our beautiful gift, handbag and accessory offering on the ground floor and offers our customers a fantastic range of new products. We currently have 20 creatives exhibiting. All the products are handmade and the range is vast! From stained glass, to jewellery, textiles to artwork and so much more. There are 4 events every year, where we look to take on new creative's and move things about. Do call up and have a look at some of the unique gifts and treasures available.
2019 Dates
Summer: 6th May – 28th July.
Autumn : 29th July – 3rd November.
Christmas – 16th November – 24th December.
If you are interested in stocking your creations in our Creatives At The Nest space please email creativesatthenest@gmail.com and request an application form. Alternatively call into the shop have a look around and collect a form from the girls.